When we connect more deeply, we love more deeply. And what we love, we protect. – Lisa McCrohan
Many of you know that I take a ton of pictures of nature. From the tulips in our front garden to the sunsets behind our house, I love pausing and noticing nature.

I have this micro practice. Throughout my day, I pause to just look outside and notice nature – right outside my back (or front!) door. I often take a picture. Rather than taking me OUT of the moment, taking a picture actually helps me to drop INTO the moment. I notice the colors, the way the light is shining, the sounds, the way the air feels against my skin. In just a few seconds, my nervous system is soothed. I can go back to the emails, the "to do" lists, and the projects with a deeper embodied peace. And i am often filled with a sense of vastness, awe, and hope. Within just a few seconds of true pausing, noticing, and connecting.
Right Outside My Backdoor
Right outside
my backdoor –
such beauty
when I stop
to linger.
Even in just
two full breaths,
I am changed.
Lisa McCrohan © 2022
I love being in nature, too. Many of you have been following along for awhile, and you know that my family and I started skiing/snowboarding about 5-6 years ago. I started cycling a few years ago, too, when my friends and I trained for a three-day 150 mile ride.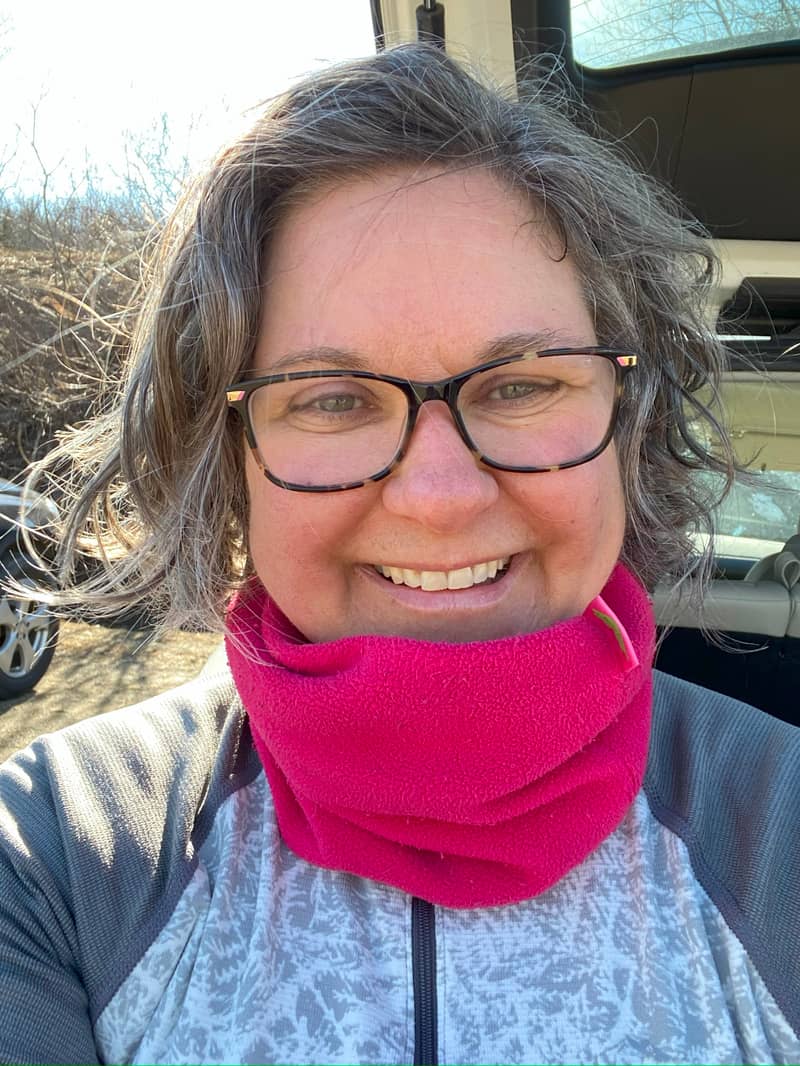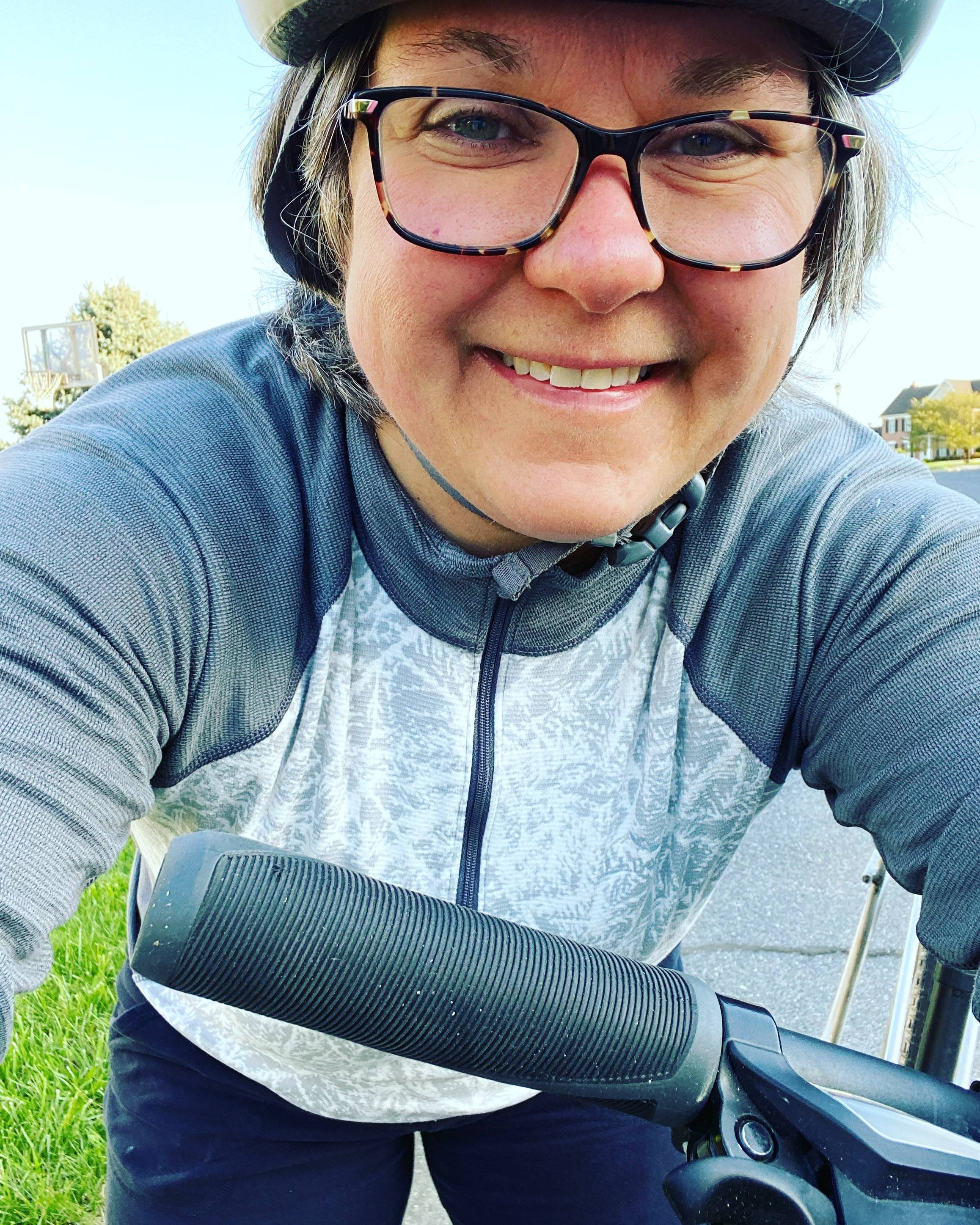 Over the years of taking pictures of nature and being outside in nature, I have really deepened my regard and love for Mother Earth. Waking up early when the sun is still rising to get in the car and head to the slopes to ski or a trail to ride my bike, there is a serene quiet that I step into as I pack up the car. I breathe that serenity in for a few moments before I close the trunk of the car. Already I am connecting more with Mother Earth – how is she today? What weather does she have for us? I don't get mad at her for how she is today – I work with her: If I need to put on more layers, I do that; and if I need to take off a layer, that's fine too.

Clicking into my skis or getting onto my bike, I know I have a few hours to just BE. Be outside. Be nourished. Be moving my body. Be and breathe – heavy and hard, or soft and slow – this changing rhythm reminds me of how alive and healthy and capable I am and my body is.

Feeling Mother Earth's wind whip through my hair, I feel a sense of freedom and liberation that both exhilarates me and calms me. When I am in my skis at the top of a mountain looking around, a vastness settles into my soul – and I feel that vastness quite literally in my whole body. When I am on my bike passing a mountain spring flowing over rocks, I both settle into my body and expand. It's magical, palpable — yet gentle and unassuming.

Whether I am out skiing in the winter or cycling in spring, my senses pick up the smallest of details: the particular white blanket of snow that covers the slopes today – powdery, slushy, dry, flaky, crunchy, smooth; the rounded and soft or rough and jagged tops of mountains; the way the sun glistens off of the snow;  the hint of lilac bushes beginning to bloom in mid spring; bumble bees zipping by me on my bike…I breathe it all in. I feel them all as gifts from Mother Nature.
Connecting to my body and connecting to the body of Mother Earth – there is this ancient exchange…this co-creation. I am a part of Her and She is a part of me. We are appreciating and loving each other.
Every time I get home a few hours later from being out skiing or biking, I am more grounded. The usual pulls on my attention of the online world and my worries feel much more distant. I am calm, often tired, and grateful. Whatever worries were on my mind, I have more spaciousness.
Be
Come.
Be still and listen.
The earth is still singing.
Place your worries
here at her feet,
and be.
Lisa McCrohan, © 2021
It's through hundreds of hours outside with Mother Earth that my love and regard has grown for her. I am not pushed or guilted into recycling, I just want to. I don't conserve water because I have to, I just want to. I don't litter because it's illegal, I just want to. I want to keep Mother Earth beautiful.
It's like that with anything or anyone – when we connect, we deepen our regard and love.
I am not into the whole "doom and gloom" marketing of trying to get us to save Mother Earth. While we need to be aware of the reality of our climate crisis, the "doom and gloom" approach doesn't really inspire action.

I believe we need climate CONNECTION.
CONNECTION ignites positive action. When we share what we love about Mother Earth, we stir love in others. We protect what we love.And if we inspire someone else to get outside and experience the beauty and healing balm of Mother Earth, I believe this is how we will save Her. And us.
Over spring break, my kiddos and I were in Colorado enjoying some spring skiing. When I got to the top of a mountain at Vail, I looked around. There were mountains around me for 360 degrees! Instantly, tears began to well up from within me. It was so beautiful. So majestic. So amazing. And I had the privilege of experiencing it.
I am in my last year of my forties. Soon I'll be entering a new decade that some say is "over the hill."  Well, I want to spend the next few decades of my life "going over the hill" – on my bike, on my skis. I want to spend whatever time I have here on this EARTH going on adventures with my family and friends out in nature. I want to spend my days allowing nature's beauty to soothe me, hold me, and remind me of this great vastness that is within me, that I am a part of, and that will continue on after I am gone.
What a privilege. What a delight.
There's nothing like Mother Earth. And I am so very grateful for Her.  As I am with Her more, I connect to Her more. I love Her more. And I regard Her more.
_________________
To help you deepen your connection with Mother Earth, I have a few episodes on Delightful for you.
Episode 47: Embodied Belonging: A Guided Meditation. Where do you feel a sense of belonging? With whom? Receive this soothing guided exploration of belonging to feel grounded, refreshed, and connected.
Episode 46: Awakening to Blossom: A Springtime Guided Meditation. This episode guides you through a nourishing exploration of springtime to help you connect to your own body and heart as well as Mother Earth so you can drop into feeling more grounded, nourished, and inspired.
Episode 6: Earth Day Bonus: Healing Your Anxiety. Healing Mother Earth. This episode explores how nature can soothe our anxiety. As a bonus – for those who join Delightful Divas, you'll find a free 15 minute guided meditation that is so soothing for your nervous system. I take you through a somatic journey of connecting to your favorite place on earth — and feeling the healing that comes from being there.
I'd love to end with a poem for us:
Mother Earth
Slow down.
Pause.
Be right here.
Call back your
energy.
Feel your feet on Mother Earth.
Feel her inviting you to rest and be nourished.
Feel her ancient stillness and strength.
Stay awhile and listen
to her healing rhythms.
She will guide you.
Lisa McCrohan © 2021
__________
Check out those episodes and notice your own connection with Mother Earth deepening. Notice what impact this has on your nervous system. Notice how you feel both grounded and inspired. Notice how as your connection to Mother Earth deepens, so does your desire to care for Her and regard Her. I believe this is how we will save us and Her.
Blessings,